We draw our strength from a diverse set of partners and skill sets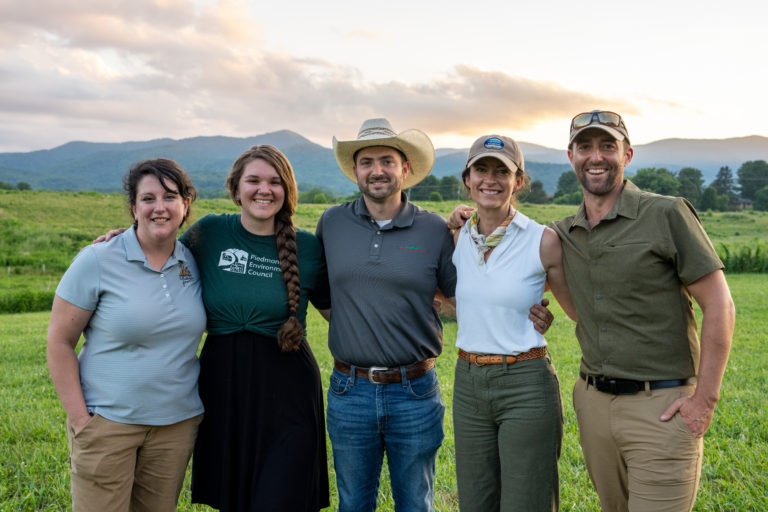 Justin Proctor, VGBI Coordinator (Smithsonian's Virginia Working Landscapes)
ProctorCJ@si.edu
(607) 229-6255
Justin works to assist producers and landowners in adopting a suite of best management practices for bird conservation on their landscapes. Justin has spent 15+ years working in the fields of science, education, and conservation, affording him opportunities to conduct ornithological research across the western hemisphere. Justin is excited to be a part of an initiative that takes science and turns it into action that benefits biodiversity, landscape resiliency, and local communities.
Favorite grassland bird: Horned Lark
October Greenfield, VGBI Co-Coordinator
(The Piedmont Environmental Council)
ogreenfield@pecva.org
(540) 347-2334 ext. 7051
October is the Wildlife Habitat Restoration Coordinator for The Piedmont Environmental Council and promotes landowner engagement around delayed mowing. With a passion for avian conservation, October has participated in a variety of wildlife habitat restoration projects and community-based conservation efforts, including those for peregrine falcons, red-headed woodpeckers, American kestrels and barn owls.
Favorite grassland bird: Barn Owl
Jacob Gilley, Mid-Atlantic Sustainable Grazing Manager (American Farmland Trust)
jgilley@farmland.org

Jacob coordinates AFT's Sustainable Grazing Project, working with producers in central Virginia to increase awareness of holistic practices focused on improving soil and water quality, the positive impacts of responsible grazing on carbon sequestration and producer profitability.

Favorite grassland bird: American Kestrel
Celia Vuocolo, Private Lands Biologist (Quail Forever)
cvuocolo@quailforever.org
(804) 537-3018
Celia is the Private Lands Biologist for northeast Virginia and provides technical assistance and federal cost-share opportunities for landowners interested in managing land for early successional species like the northern bobwhite, native pollinators, grassland birds and other wildlife. Celia's position is supported by a partnership between Quail Forever, Natural Resources Conservation Service (NRCS), and Department of Wildlife Resources.
Favorite grassland bird: Northern Bobwhite
Amy Johnson, Program Director (Smithsonian's Virginia Working Landscapes)
As Program Director for Smithsonian's Virginia Working Landscapes, Amy leads a team that cultivates a dynamic network of private landowners, citizen scientists, NGO's, state agencies and research scientists to collectively investigate the impacts of conservation management and land use on biodiversity. In addition to research, she is committed to developing a strong outreach program that communicates research findings to inform best management practices for regional conservation partners and the community.
Favorite Grassland Bird: Eastern Meadowlark
Interns
(Fall 2021) Hannah Adamson, Smithsonian Mason School of Conservation
Adamson Final Presentation_PGBI
(Summer 2021) Olisaneme Okonkwo, Conservation Centers for Species Survival
(Spring 2022) Alexi Hunt, Smithsonian Mason School of Conservation
(Spring 2022) Eva Noroski, Smithsonian Mason School of Conservation
Noroski Final Presentation_PGBI
(Summer 2022) Xavier Barreda